History and Hauntings walking tour Aug 5th 9 am
Located on the Eastern Slopes of the Sierra Nevada Mountains, just a few minutes away from Lake Tahoe, lies one of Alpine County's most charming towns – historic Markleeville, CA.
Saturday, August 5th the Alpine County Historical Society will be hosting a History and Hauntings walking tour. Guided by Historians and members of the Northern Nevada Ghost Hunters you will hear fascinating stories that will teach you when and why Markleeville was founded. Along the way the tour will pause allowing you the chance to contact any spirits that may be lingering.
Is Markleeville, Ca haunted? Come find out for yourself.
Because when the spirits ask you to come visit, you just can't resist.
After the tour has concluded plan to spend the rest of the day on your own discovering the fun little shops and restaurants that line the historic main street.
Tickets are only $10.75 per person with only 40 available. These will sell quickly. Buy yours today!


Historical Complex Paranormal Investigation Aug 5th 9 pm
In October 2013 the Northern Nevada Ghost Hunters were asked to hold a public paranormal event to benefit the Alpine County Historical Society. During a pre investigation NNGH's founder captured some the team's best footage of paranormal activity in the Old Jail. Many of the participants captured EVPs and had personal experiences while investigating the Complex. Come join us for our 2nd ever investigation at this amazing and historical site. The Alpine County Historical Complex located in Markleeville, CA consists of a Museum, Old Webster School House, and the historic log Jail. You don't want to miss your chance to be part of this fun filled evening. NNGH will be on hand to guide you in the use of equipment and investigative techniques.
Ticket price is $26.50 each. Ticket sales are limited to no more than 30 and are expected to sell out.

Net proceeds of all ticket sales will benefit the Alpine County Historical Society.

---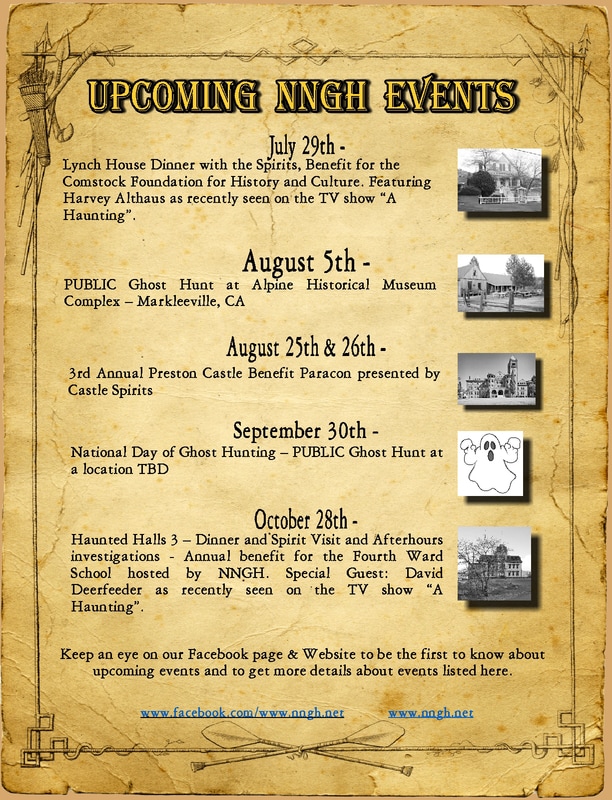 ---
F.A.Q'S

How do I become a member? Members are hand picked by the founder from "Friends-Of/Potential Member" list and voted on by current members.
Are you scared when you go on an investigation? Sometimes. It depends on the circumstance.

Are you doing this for fame and notoriety? No. We are here for the clients first and foremost. We enjoy learning about the paranormal and educating others as well.
Can I go on a ghost hunt with you? We have many public events/fund raisers/public ghost hunts, please watch our event calendar for upcoming events.
Do you always catch evidence? No.
Do you work with other groups? Absolutely! Contact ighosthunt@gmail.com
Do you charge for your services? No.
I am writing an article or have a senior project coming up. May I contact your group for assistance? Yes. Please email us at ighosthunt@gmail.com
---
TO BECOME AN NNGH SPONSOR
For a $55.00 donation, you will receive a "Northern Nevada Ghost Hunters" t-shirt, free entrance to an upcoming event (ex...fund raiser, ghost hunt, NNGH's team training ) at the team's discretion.



---
COMMUNITY OUTREACH

NNGH has taken a vow not only to do investigations, but to help the community as well. Our monthly meetings include a segment on how can NNGH help out certain groups, who are truly in need and want our help. Some of the topics and projects we participate in are restoration and clean-up of historical buildings, cemetery clean-ups, and donations to historical sites.
---
STUDENT MENTORING

Recently NNGH had the pleasure of mentoring a student. She came to us for help in completing her senior paper. NNGH, took her on investigations, and presented her with the skills in becoming a paranormal investigator. We are happy to announce she received an A on her report. We aided in the success, of two students from the University of Nevada, of their mid-term paper on ghost hunting.
---
Moon Phases:

---