PARTNERSHIPS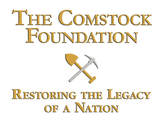 The Comstock Foundation for History and Culture was formed in 2013 and received 501c3 status in 2014. The mission is to encourage the preservation and promotion of the historic and cultural resources within the Virginia City National Historic Landmark District.
The Purposes of the Comstock Foundation are:
The acquisition, restoration, and/or preservation and maintenance of historic structures and objects;

The excavation of historic sites directed by archaeologists with permits granted by the state and/or federal government;

Community outreach through advocacy and celebrations associated with the history of the Comstock and the Comstock Lode Era;

Collaboration activities within the Comstock Historic District that support preservation of historic resources;

Fund development activities for charitable purposes.

Comstock History is significant locally, to the State of Nevada, Cities such as San Francisco in California, and to the nation. This slice of history impacted the nation and the Comstock Foundation endeavors to Restore the Legacy of a Nation.
---
NNGH appreciates every dollar donated. We use these funds to purchase equipment
used in our investigations and to further our education in the paranormal field.

---
Contact NNGH
-
email
or 775.830.3779
---
Recommended Links: