Haunted Comstock

Are you curious about the unknown?
Do you love haunted places?

Come join the Comstock Foundation for History and Culture along with NNGH for a chance
to explore the haunted history of the Comstock!

---
Tour and Investigate locations that are rarely open to the public. This is your chance to possibly encounter the paranormal alongside our experienced investigators.

The Spirits are waiting to meet you. And boy do they have a lot to say.
Your Choice of either: Friday or Saturday Night
Locations include:
Location #1: Haunted Cabin in the Sky - Gold Hill
Location #2: Donovan Mill Site - Silver City
Location #3: Crown Point Mill - Gold Hill

$50 each location

SPECIAL: Haunted Comstock Grand Tour (all three locations) $100 (sale ends 10/27)
Proceeds to go to The Comstock Foundation for History and Culture, Restoring the Legacy of a Nation.

*****Limited to 40 tickets per night are being offered*****




---

---

---
---
Event Calendar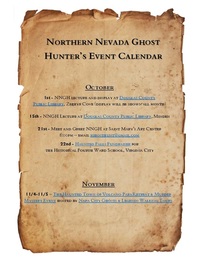 ---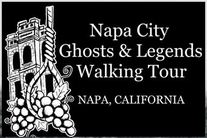 ---
Moon Phases:

---
F.A.Q'S

How do I become a member? Members are hand picked by the founder from "Friends-Of/Potential Member" list and voted on by current members.
Are you scared when you go on an investigation? Sometimes. It depends on the circumstance.

Are you doing this for fame and notoriety? No. We are here for the clients first and foremost. We enjoy learning about the paranormal and educating others as well.
Can I go on a ghost hunt with you? We have many public events/fund raisers/public ghost hunts, please watch our event calendar for upcoming events.
Do you always catch evidence? No.
Do you work with other groups? Absolutely! Contact ighosthunt@gmail.com
Do you charge for your services? No.
I am writing an article or have a senior project coming up. May I contact your group for assistance? Yes. Please email us at ighosthunt@gmail.com
---
TO BECOME AN NNGH SPONSOR
For a $50.00 donation, you will receive a "Northern Nevada Ghost Hunters" t-shirt, free entrance to an upcoming event (ex...fund raiser, ghost hunt, NNGH's team training ) at the team's discretion.


---
FRIENDS OF NNGH

Friends of NNGH are those who have expressed an interest in the paranormal and a desire to join our team. Becoming a Friend gives everyone a chance to learn the NNGH method of investigating, and allows Friends to uncover their unique talents and abilities. Friends are part of most NNGH events and are taken on private investigations, when space is available, and investigations of many historic locations. When an opening on the NNGH team becomes available, Friends are given an opportunity to join the team, at the discretion of the NNGH membership.

---
COMMUNITY OUTREACH

Recently NNGH has taking a vow not only to do investigations, but to help the community as well. Our monthly meetings include a segment on how can NNGH help out certain groups, who are truly in need and want our help. Some of the topics and projects we participate in are restoration and clean-up of historical buildings, cemetery clean-ups, donation to historical sites.

---
STUDENT MENTORING

Recently NNGH had the pleasure of mentoring a student. She came to us for help in completing her senior paper. NNGH, took her on investigations, and presented her with the skills in becoming a paranormal investigator. We are happy to announce she received an A on her report. We aided in the success, of two students from the University of Nevada, of their mid-term paper on ghost hunting.
---